003.
Brian Chase
Ride / Scratch
7" lathe cut record
Edition of 25 copies
2013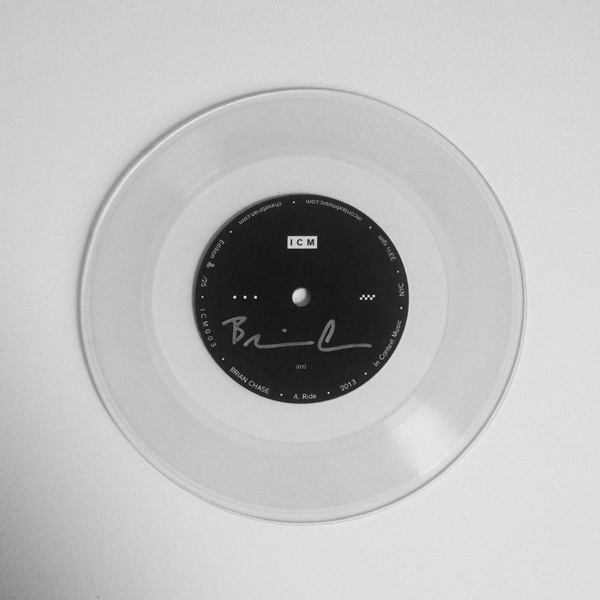 ︎ LISTEN
︎ DETAILS
For ICM003, Brian Chase furthers his solo work and shares a growing ability to translate complex tuning theories into visceral and exciting pieces of music.
The two tracks, "Ride" and "Scratch" use as their sound source a single cymbal and drum respectively. On "Ride" the cymbal is playing a repeated pattern, imitating a groove played to seduce, causing the cymbal to ring with the shifting timbre of its tintinnabulation, a device to entrance. On "Scratch" the drum is played with a chopstick, imitating the motion of a needle playing a record, coaxing the drum to resonate with sustained tones of choir angels. Both tracks are processed with precise digital equalization according to the Just Intonation tuning theory, greatly bringing out the instruments' natural acoustic overtones.
︎ PRESS
Tiny Mix Tapes
Grant Purdum
Chase is an experimental mind...His entry in the In Context Music series, on miraculously clear lathe-cut vinyl like the other limited-to-25 items in the line, is an exploration of deep-space sound manipulation that transcends mere method. By this I mean, you could never guess the source of these recordings unless you'd tried the same thing yourself...A personal work that rewards intense listening.
Still Single
Doug Mosurock
Chase is best known as the drummer of the Yeah Yeah Yeahs, but his classical/conservatory side shouldn't be understated. Here he works in a more experimental realm – the simple tapping of a ride cymbal ("Ride") is filtered to reveal hidden harmonic/drone discoveries in the timbre of the metal, and similar metal percussives (or perhaps strings?) are bowed ("Scratch") to unlock insanity-defense level peals of angelic anguish.
︎ MEDIA
Record Release Poster
by ICM and Jordan Dolheguy